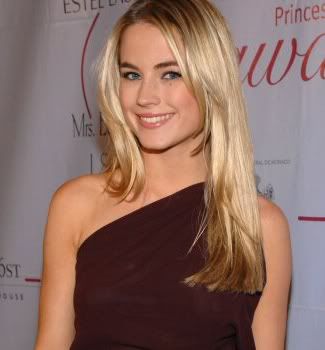 Seasoned tournament reporter Amanda Leatherman will take the reigns as WPT Season VII Live Updates Hostess, delivering up-to-the minute action, behind-the-scenes look at life on the tournament trail, player interviews and more.

Amanda Leatherman has been in the poker circles for a number of years. Having been a reporter for numerous media outlets, Amanda has had the chance to interview a number of poker pros in the last couple of years. Being a poker player herself, the beautiful blonde hottie is very knowledgeable about the game, and is not afraid to talk poker strategy with the best of them. In 2008, Amanda became the live update hostess of the World Poker Tour, shown online through webcam, which will give her even more exposure, to the delight of all her fans.

Amanda, who will still maintain her duties with Poker Road Radio, replaces Kimberly Lansing as the World Poker Tour's Live Updates Hostess. Of the gig, Leatherman said, "I'm a poker player and have been for quite a while now so I am very comfortable talking about hands and strategies. Plus I know a lot of the regulars on tour and it'll be fun to talk with them on the webcam."

Leatherman's replacement of Lansing leads to speculation that Lansing is a frontrunner to replace Layla Kayleigh as hostess of the World Poker Tour's seventh season. Kayleigh herself mentioned that she thought Lansing would be a wonderful choice to take on 'hostess duties'. However, no official announcement has been made…and the WPT continues to produce televised final tables right now with no broadcast agreement set.


Amanda Leatherman's photos