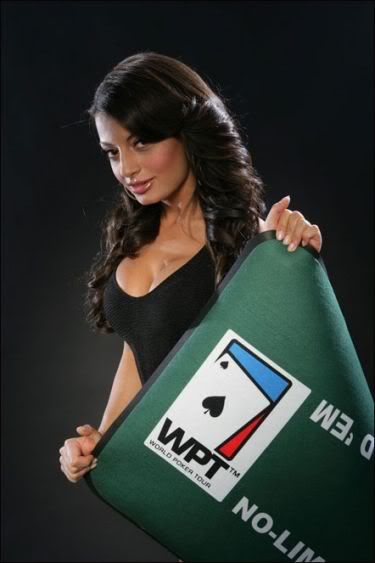 Layla Kayleigh a super hottie who hosted Season VI World Poker Tour which creates a new category of WPT hostess -- one that radiates sex appeal. Not just with her looks, but with her attitude and personality.

By 2007, Layla Kayleigh's profile was soaring. She was balancing work as an on-air correspondent for FOX Sport's The Best Damn Sports Show Period as well as The Vegas Insider when she was sent to play in a charity poker tournament sponsored by Stuff magazine. A poker novice, Kayleigh managed to play her way to the head table, infuriating some of the better players but mostly earning respect from the poker powers-that-be, to the extent that Robyn Moder, Executive Vice President of the World Poker Tour studios announced they had signed Kayleigh to host Season VI of the World Poker Tour.

In making the announcement, Moder cited her "impressive TV background" and noted that she was "energetic, intelligent and strikingly beautiful," making her the ideal host for the show.