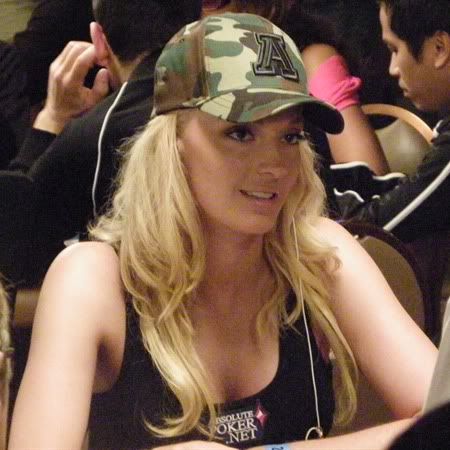 Lacey Jones is not only a talented poker player, but one of the certified poker hotties, a model, actress and television hostess. On top of it all, she's one of the most beautiful women to ever play the game of poker, as her nickname of "The Poker Barbie" will attest.

Lacey first developed a love for poker when she was a child. Her family would go on vacations to South Carolina, and they would spend all night playing cards at their beach house. Lacey Jones' passion for poker continued through high school and college, and she soon found herself taking frat boys' money at the University of Arizona.

Lacey Jones' big break in the poker world came when she was hired as a model to play in an ESPN poker tournament. She was only there as eye candy, but Lacey surprised everyone by finishing 32nd out of a field of 360. After wards, she was approached about a sponsorship deal with Absolute Poker, and she was paired with Mark Self to learn the finer points of the game.

The training paid off, and Lacey Jones cashed in three tournaments in 2006. She also started competing in the World Series of Poker in 2005, and she's been participating every year since. When she plays in the WSOP, Lacey prefers Razz and Seven-Card Stud.

In 2007, she was hired to be the hostess and bracelet presenter for the World Series of Poker. She has acted as the hostess for the U.S. Poker Bowl for Fox Sports, and has appeared at the Borgata Poker Open. Lacey has been featured in Woman Poker Player, Poker Player Magazine and Wicked Chops Poker. Lacey also teaches seminars for Rush2Win (along with legends like Phil Hellmuth and Johnny Chan), one of the top online poker educators.


Lacey Jones' Photos