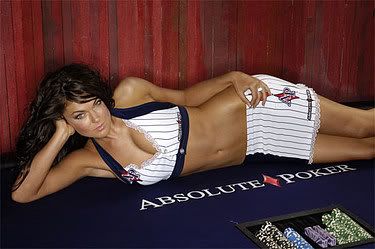 Serinda Swan, the stunning face of popular online casino poker site Absolute Poker. Born on July 11, 1984 in Vancouver, British Columbia, Serinda Swan is a model, actress, and a real hot poker girl player. Swan attributes her interesting first name to the fact that her parents were hippies and, as such, they named her after a Tibetan musical instrument of the same name. She also goes by the nickname of Swanita.

Swans career in acting started when she was only three years old and she continued to act until she was seven, enjoying some moderate success. She landed her first role when her mother, who was also an actress, was trying out for a part. As her mother tried to land the role, Swan was crying in the waiting room. Her tears grabbed the attention of director Joel Shumacher, who handpicked her for a role in Cousins with Ted Danson and Isabella Rossellini. Serinda fell the acting bandwagon shortly after and didn't go back until she was 19, which is when she started to seriously get involved in the industry.

As an integral part of the Absolute Poker.net marketing campaign, Swan can be found in promotional videos and commercials for the site. The 25-year-old isn't all about looks, however, as she is also an avid poker player. Swan is relatively new to the game, but has taken her game seriously. In fact, she has gone through a poker boot camp and has received lessons from professional poker players such as Phil Hellmuth and Mark Seif.

Swan can be found playing online poker regularly at Absolute Poker from 2:00 to 4:00 PM EST on Sundays. Here, she plays at the $1/$2 No-Limit Hold'em table under the name "Serinda Swan." No-Limit Hold'em is her game of choice and, although she is certainly establishing herself as a name in the poker room, Swan still admits that she needs more practice. In addition to playing against her, players can chat with her as well. Be warned, however, that she regularly blogs about these interactions. The blog can be read by visiting the players' lounge, which also features a photo gallery of the model.


Serinda Swan's Photos