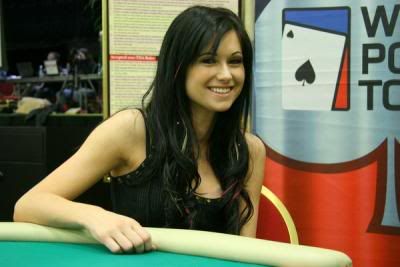 Chantel McNulty is a pro poker hottie who seems to generate a lot of discussion and controversy. She's finished in the money four times at major tournaments, and her career earnings are estimated to be $28,864 (not including cash games).

Born in the 1980s, Chantel McNulty was raised in Lake Dallas, Texas. She developed an early interest in poker, and she soon found herself participating in underground card games in Dallas. This allowed her to play with and observe some of the best players in the world, and Chantel was soon making money herself.

The late hours caused her to miss some of her college classes, and her father (a successful businessman) was not pleased. He threatened to cut her off if she continued to play poker, and that's eventually what happened. Her mother, on the other hand, was more understanding.

Still underage, Chantel purchased a fake ID from the sister of a friend and started playing in Las Vegas poker tournaments. At the time, she was going by the name of Ashley, and her game of choice was 2/5 No-Limit Texas Hold'em.

A year later, she made the decision to learn limit poker, and she has credited Dustin "Neverwin" Woolf and Devin Miller with helping her do so. It was about this time that McNulty's name started popping up on Internet gambling forums.