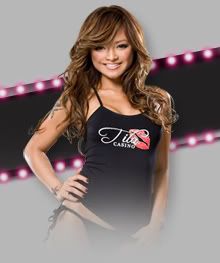 Tila (Tequila) Nguyen - Poker Hottie
Birthday: October 24, 1981
Birth Place: Singapore
Raised in: Houston, Texas, USA
Resides in: West Hollywood, California, USA
Marital Status: Single
Height: 4'11''

Tila Nguyen was born in Singapore in 1981. Her family immigrated to Houston, Texas, when Tila was very young. Tila was born a trouble maker. She was sent from boarding school to boarding school, until she was old enough to live on her own. When Tila was 18 she decided to move to Hollywood, with the dream to become famous.

She was approached by Playboy magazine to pose nude when she was roaming in a mall. She refused the offer to only eventually accept a few years later. Tila appeared in Playboy magazine in April 2002 and was the first Asian Cyber Girl of the month. In September of 2003 Tila joined myspace under the name of Tila Tequila. Her page has been viewed over 50 million times. Since then she has had a whirlwind of achievements.

Becoming a Poker Hottie

Continuing to ride the wave of popularity, Tila Tequila has also launched her two online casino gambling sites, TilaCasino.com and TilaPoker.com. On the poker site, players can earn Tequila Shots (the equivalent of poker points) by playing in ring games and raked tournaments. Playtech serves as the host network of her online casino, immediately making her a force to be reckoned with in the online gambling community.



Tila Tequila's Photo